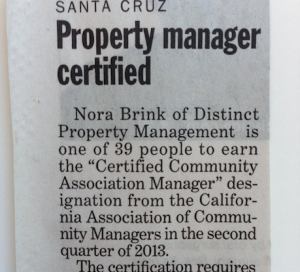 We at Distinct Property Management believe, that credibility counts with our clients, board members and homeowners. They need a community manager with expertise – someone who can answer questions, offer solid advice and provide solutions. Be the expert they need by pursuing CACM's certification programs.
Therefore we would like to congratulate Distinct's own Nora Brink to her accomplishment with this milestone as Certified Community Association Manager (CCAM®) – a certification she received during her continues education with the professional organizations like the California Association of Community Managers. In addition to passing the exam earlier this year, she was acknowledged by her peers in the Santa Cruz Sentinel on Tuesday August 13th, 2013. Nora Brink, one of the two owners of Distinct Property Management, a Santa Cruz Property Management firm, not only holds a Broker's licence, but is additionally certified with the National Board of Certification for Community Association Managers (NBC-CAM) (www.caionline.org).
Professional Organizations like CACM are important to establish guidelines that promote professionalism, provide information, education and resources to all community association stakeholders, including community managers and homeowner leaders. When CACM was founded in 1991, it was created by managers for managers – and their certification programs directly reflect those same ideals.